<< Back to San Francisco Gallery Openings Reviews
Upcoming San Francisco Gallery Openings Calendar >>
***
Get your art fix fast: Instagram @alanbamberger
***
Modern Eden Gallery: Flower Child - 50 Years of SF's Summer of Love
Artists: Young Chun, Sybiline, Chris Guest, Chie Yoshii, Rhea O'Neill, Andrea Sipl, Marlene Seven Bremner, Erica Calardo, Jana Brike, Pippa McManus, Julie Filipenko, Sheri DeBow, Happy D., Daisy Church, Gretchen Lewis, Sergio Lopez, Daniel J Valadez, Kindra Nikole, Amy Ahlstrom, Lori Nelson, Megan Buccere, Alison Ye, Amandalynn, Phillip Hua, Alec Huxley, Chris Leib, Simona Candini, Elizabeth Amento, Mary Syring, Martin Hsu, John Walker, Kaspian Shore, Henry Schreiber, Meredith Marsone, Catherine Moore, Rebecca Rose, Kim Huynh, Joshua Coffy, Carly Janine Mazur, Erica Rose Levine, Michael Campbell, Brian Donnelly, Debra Gardner Abarca, Christina Ridgeway, Ania Tomicka, Peter Adamyan, Kristin Forbes-Mullane, Omalix, Steve Ferrera, David Natale, Stephanie Jucker, Johnie Thornton, Leilani Bustamante, Hana Mulyati, James Marc, Aunia Kahn, Adam Ziskie, JOEMUR, Delphyne V., Primary Hughes, Tracy Lewis, Chris Sheridan, Adam Caldwell, Wesley T. Wright & Malia Landis, Bec Winnel, Erich J. Moffitt, doubleparlour, Lacey Bryant, Sandra Yagi, Kelly McKernan, Ron Norman, Jessica Violetta, Melanie Alves, Derek Harrison, Ruth Speer, Gillian Keller, Lioba Brückner, Jaclyn Alderete, Hikari Shimoda, Ransom & Mitchell.
Comment by AB: Just between the two of us, living through it once was more than enough.

Art by Chie Yoshii up close at Modern Eden Gallery.


Michael Campbell mushroom sculpture.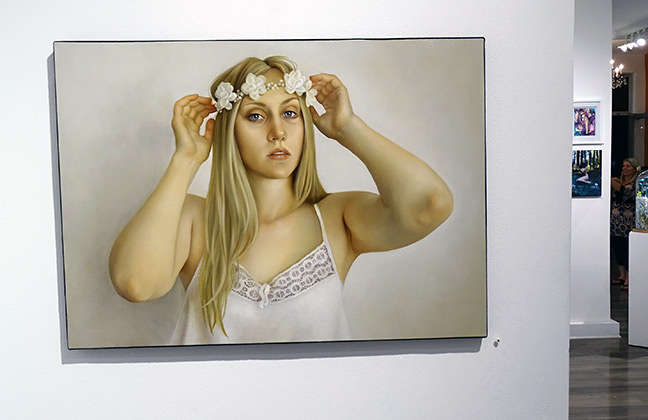 Erica Calardo art (nicely done).


Bottom row - art by Kindra Nikole.


John Walker art up close.


Art by Rhea O'Neill (center).


Art by James Marc, Gillian Keller, Phillip Hua, Stephanie Jucker, Joseph Murdach, Lacey Bryant.


Artists look back at The Summer of Love at Modern Eden Gallery.


***
Mule Gallery: Jon Stich - Prizes May Vary
Comment by AB: Fantasy and reality cohabitate in these incongruous overlays.

Art by Jon Stich at Mule Gallery (kinda like it).


Cowboys and sunbathing - Jon Stich art.


Art by Jon Stich.


Ambiance - Jon Stich art show at Mule Gallery.


***
Grey City Gallery: Joan Stennick
Comment by AB: Layered sanded paint/collage combos.

Small format abstractions by Joan Stennick at Grey City Gallery.


Art by Joan Stennick closer.


Joan Stennick art in top image closer.


Overview - Joan Stennick art show at Grey City Gallery.


***