<< Back to San Francisco Gallery Openings Reviews
Upcoming San Francisco Gallery Openings Calendar >>
***
Get your art fix fast: Instagram @alanbamberger
***
SOMArts Gallery: The Black Woman is God - Divine Revolution
Artists: Aambr Newsome, Ajuan Mance, Audacious Wilson, Alise Eastgate, Anna W. Edwards, Ayana Ivery, April Martin Chartrand, April Martin, Arinthia Jones, Ain Bailey, Bushmama Africa, Cynthia Brannvall, Djenne BaBatties, Dawn Rudd, Dalila Dynes, Elizabeth Summers, Francis Mead, Fan Lee Warren, Gabriella Pavel, Hilda Robinson, Idris Hassan, JaeMe Bereal, Kalimah Abioto, KaliMa Amilak, Karen Oyekanmi, Karen Seneferu, karin turner, Kathleen McDonald, Kenyetta McLaurin, Kiani Shaw, Kimberly Johnson, Kristina "Namastina" Williams, Kristine Mays, Lakiba Pittman, Latisha Baker, Lorraine Bonner, Marissa Arterberry, Mizan Alkebul-Abakah, Maya Wamukota, Marnika Shelton, Nzinga Hatch. Nicole Dixon, Nye' Lyn Tho, Orlonda Uffre, Rayla Meshawn, Redwood Hill, Rosalyn Parhams, Sasha Kelly, Shanna Strauss, Shah Noor Hussein, Shylah Hamilton, Sonjhai Meggette, Sydney Cain, Taiwo & Kehinde, TaSin Sabir, Tracy Brown, Toshia Christal, Tiphereth Banks, Val Kai, Virginia Jourdan, Valerie Brown-Troutt, Vaughn Kimmons, Venus Morris, Vanessa Addison Williams, Wawi Amasha, Yodassa Williams, Yetunde Olagbaju, Yasmin Sayyed, Zakiya Harris, Zena Carlota.
Comment by AB: A marvelous, mystical, spiritual, artistic celebration of all that the Black female presence represents. Sometimes art is about way more than just art. So much to see and experience. Recommended.

Headdress art by Ayana Ivery at SOMArts Gallery.


.Wire sculpture by Kristine Mays (right)


Floral expletive art/installation - The Black Woman is God at SOMArts.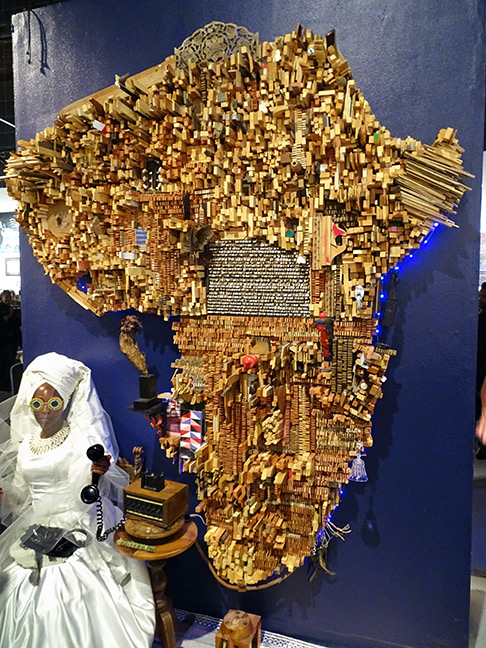 Karen Seneferu and her assemblage art at SOMArts Gallery (best of show).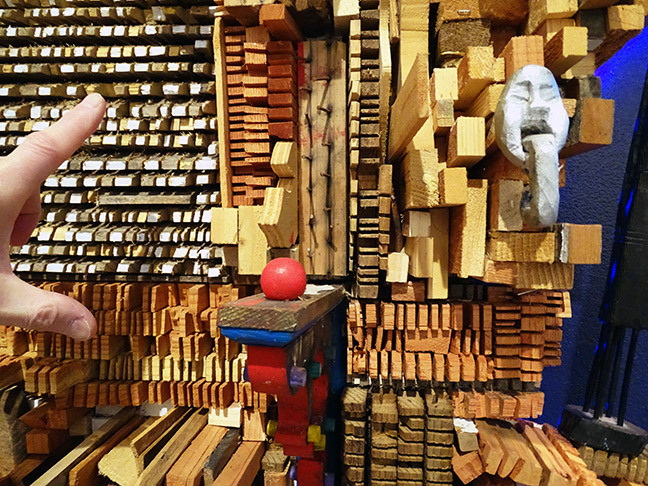 Detail of art in above image.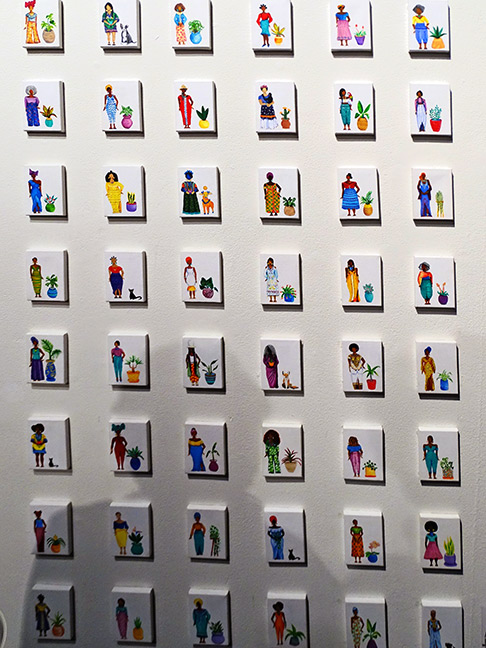 Miniature art by Alise Eastgate (kinda like 'em).


Pinkie cam detail of art in above image.


Art & installation.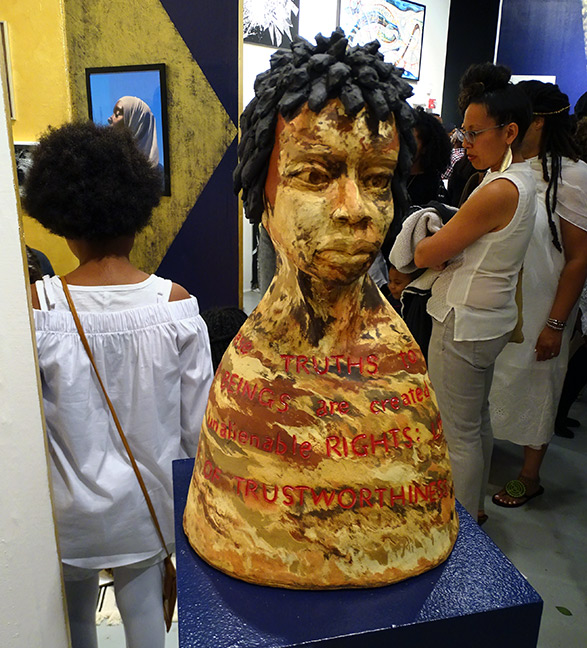 Ceramic sculpture by Lorraine Bonner.


Art adorns the walls at The Black Woman is God - Divine Revolution - SOMArts.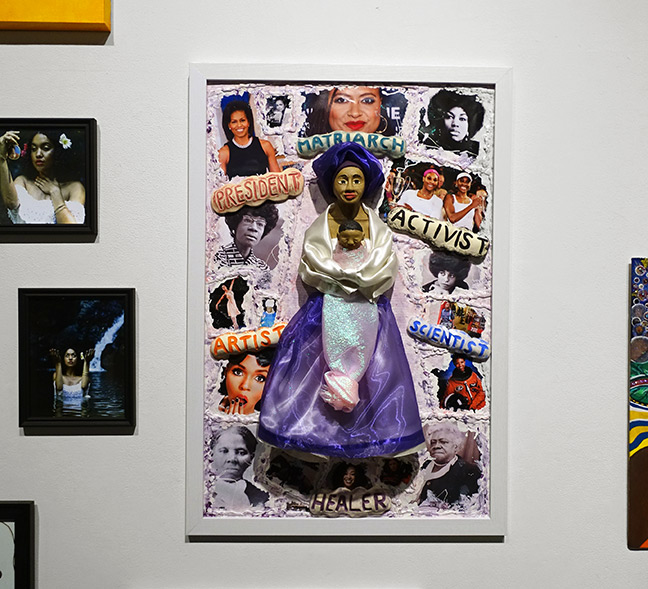 Art in above image closer.


Intricate mosaic, sequin and paint figure.


Detail of art in above image.


***
San Francisco Arts Commission at City Hall: Tabitha Soren - Fantasy Life
Comment by AB: Fifteen years and 180 photographs by Tabitha Soren give us an authentic inside look at minor league baseball, its players, fans, ballparks, lifestyle and more. Stop on by.

Photography by Tabitha Soren at San Francisco City Hall.


Photographs about minor league baseball by Tabitha Soren.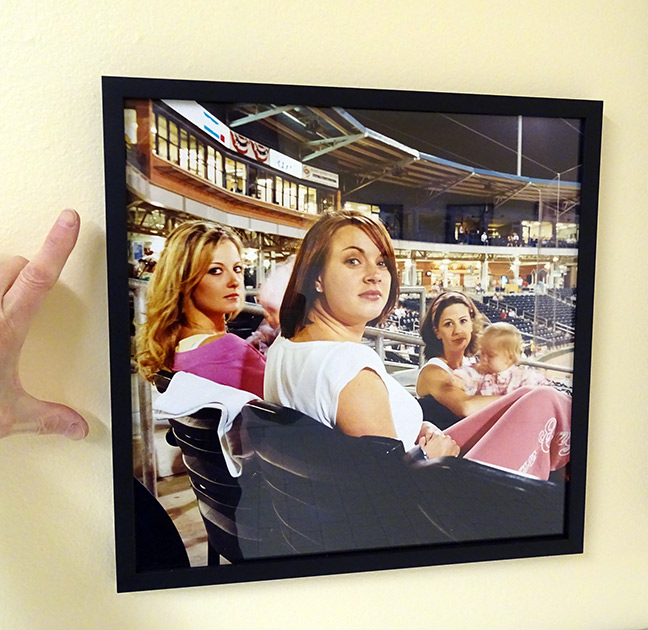 Out for a night at the ballpark - Tabitha Soren photograph.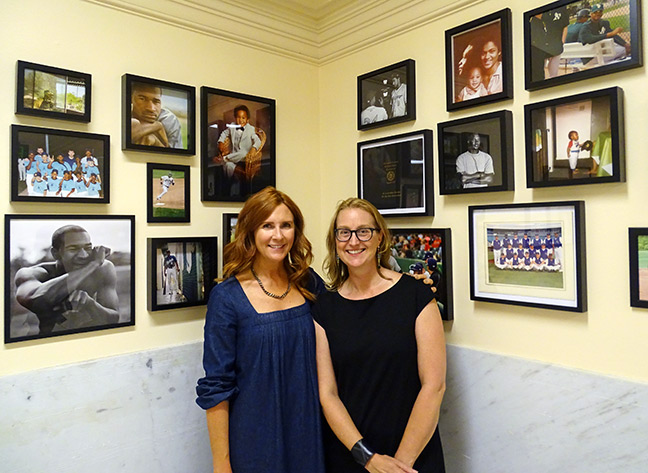 Tabitha Soren, her photography and SF Arts Commission Director, Meg Shiffler.


Baseball photographs by Tabitha Soren.


Tabitha Soren photography.


Minor league baseball photos by Tabitha Soren at SF Arts Commission.


***
Space 151: Vanesa Gingold and Mary Button Durell - Volupté
Comment by AB: Delicate mixed-media sculptures by Vanesa Gingold alongside paper sculptures by Mary Button Durell.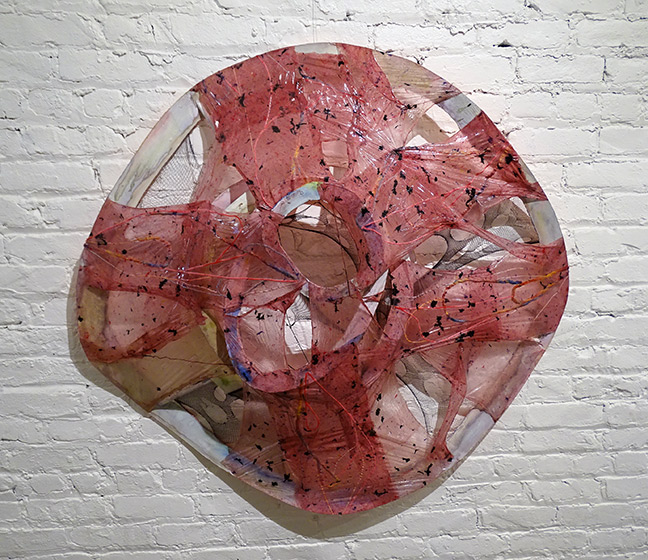 Art by Vanesa Gingold at Space 151.


Vanesa Gingold hanging mixed media sculpture.


Art by Vanesa Gingold.


Paper sculpture by Mary Button Durell.


Mary Button Durell paper art up close.


Paper art and projected light installation by Mary Button Durell.


***