<< Back to San Francisco Gallery Openings Reviews
Upcoming San Francisco Gallery Openings Calendar >>
***
Get your art fix fast: Instagram @alanbamberger
***
Art Market San Francisco at Fort Mason, Festival Pavilion: Opening Night Preview Gala
Exhibitors: 55Bellechasse, Abigail Ogilvy Gallery, Arcadia Contemporary, Art Unified, Arteria Gallery, ArtHaus, Axiom Contemporary, Back Gallery Project, Bruce Lurie Gallery, CULT | Aimee Friberg Exhibitions, Caldwell Snyder Gallery, Chandra Cerrito Contemporary, Chandran Gallery, Chimento Contemporary, Chloe Gallery, ConceptReal, Corden Potts Gallery, Cordesa Fine Art, Duane Reed Gallery, Eckert Fine Art, Electric Works, Elins Eagles Smith Gallery, Escarlata, Evan Lurie Gallery, Ever Gold [Projects], Forum Gallery, Franklin Bowles Galleries, Gail Severn Gallery, Galerie Tamenaga, Gallery Sam, George Billis Gallery, George Lawson Gallery, Gerald Peters Gallery, Hashimoto Contemporary, HATHAWAY, Johansson Projects, K. Imperial Fine Art, Kala Gallery, Masterworks Fine Art, Michele Mariaud Gallery, Montague Gallery, Muriel Guépin Gallery, NanHai Art, Nancy Hoffman Gallery, Newzones, Nil Gallery, Other Criteria, Pace Palo Alto, Paul Thiebaud Gallery, Peimbert Art, Quantum Contemporary Art, Rebecca Hossack, Red Truck Gallery, Rehs Contemporary Galleries, Inc., SCAA - Sergott Contemporary Art Alliance, SFMOMA Artists Gallery, SPONDER GALLERY, Seager Gray Gallery, Simyo Gallery, Spoke Art, Sundaram Tagore Gallery, The Great Highway, The Skateroom, Timothy Yarger Fine Art, Nancy Toomey Fine Art, Twiga Gallery, Walter Maciel Gallery, Weinstein Gallery, YES WE'RE OPEN, projects+gallery, ten|Contemporary.
Comment by AB: An eclectic mix of international exhibitors makes for a gratifying survey of contemporary art today. More good artists and accomplished art available to upgrade your quality of life than ever before. On through Sunday. Go see. Worth it.

Trash bag still-life by Joel Daniel Phillips at Hashimoto Contemporary (sold).


Art by Carlo Russo at Acadia Contemporary, Art Market San Francisco.


Little gem by Colette Calascione at Nancy Hoffman.


Gale Hart handgun sculpture at ten | contemporary (nice).


Zio Ziegler wall-to-wall art at SFMOMA Artists Gallery.


George Mead baseball art at Axiom Contemporary.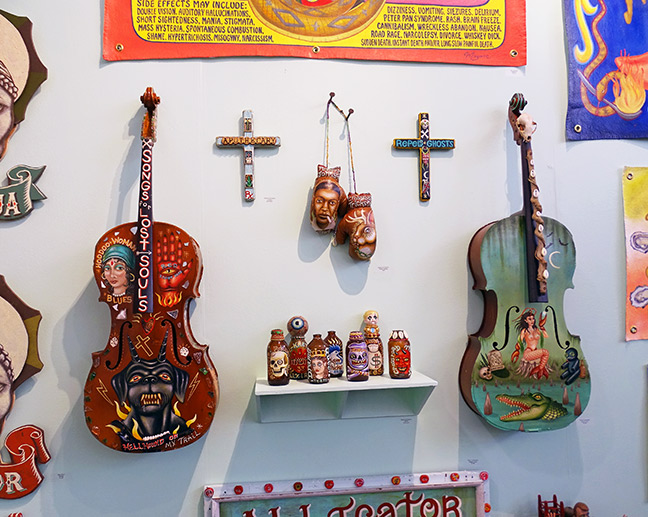 Bryan Cunningham Southern folk art at Red Truck (like it).


Katy Ann Gilmore goes geometric at Cordesa.


Pinkie cam detail of art in above image.


Escape to Arcadia art by Tula Telfair at Forum Gallery (like it).


Inflatable relaxation art by Lewis deSoto at Chandra Cerrito.


Sculpture by Mars-1 at Weinstein Gallery, Art Market San Francisco.


Everybody's an artist - Bernie Taupin art at Timothy Yarger.


Installation by Masako Miki at Cult Exhibitions.


Masako Miki at Art Market San Francisco.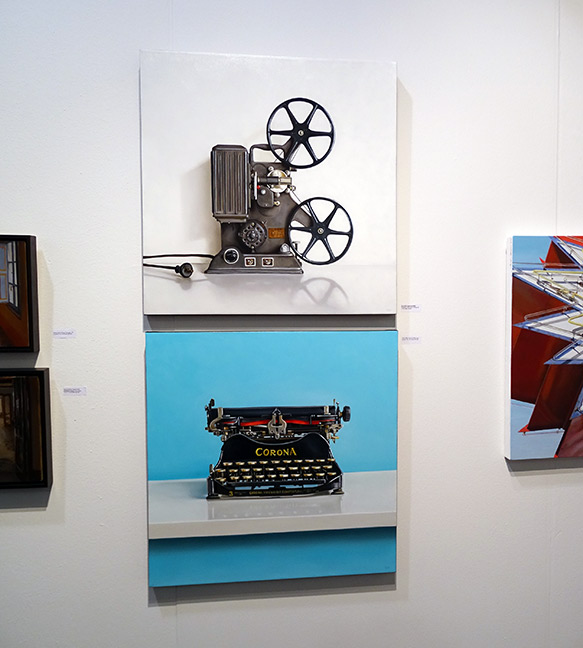 Chris Stott technological nostalgia art at George Billis.


Eduardo Sarabia plate art at other criteria.


Zheng Lu water splash sculpture at Sundaram Tagore.


Pinkie cam detail of art in above image (nicely done).


***