<< Back to San Francisco Gallery Openings Reviews
Upcoming San Francisco Gallery Openings Calendar >>
SAN FRANCISCO ARTS COMMISSION - LUNA REINNE

CALIFORNIA INSTITUTE OF INTEGRAL STUDIES

ARTSPAN - R/SF PROJECTS - SHAMBHALA

03.25.17



What's so important about signing your art? Click Here.
***
Get your art fix fast: Instagram @alanbamberger
***
San Francisco Arts Commission Galleries: Sanctuary City
Artists: Barry Anderson, Evelynn Aponte, Lili Bernard, Libby Black, Garry Brewer, Nyame O. Brown, Brian Caraway, Cece Carpio, Carolyn Castano, Joey Castor, Freddy Chandra, Chenhung Chen, Modesto Covarrubias, Rick Dallago, Bibi Davidson, Leonard De Greco, Yvette Deas, Diane Ding, Colin Doherty, Tim Doud, David Estrada, Diane-Sofia Estrada, Rodney Ewing, Susan Feldman, Chris Finley, Jon Fischer, Erik Flores, Gwen Freeman, Dwora Fried, Dorothy Goode, Joshua Hagler, Diane Andrews Hall, Michael Hall, Adrienne Heloise, Sarah Hirneisen, David Hollier, Phillip Hua, Marlene Iyemura, Cassandra Jones, Kevin Jones, Soad Kader, Amy Kaps, Veda B. Kaya, Dave Kim, Michael Koehle, Melanie Lacy Kusters, Danielle Lawrence, Carrie Lederer, Hung Liu, Sandra Low, Kija Lucas, Monica Lundy, Walter Maciel, Aline Mare, Kara Maria, Michael Massenburg, Randi Matushevitz, Geri Montano, Paul Mullins, Antonio Muniz, Rikki Niehaus, Damien O'Brien, Tim Okamura, Cynthia Ona Innis, Paul Paiement, Maria Pineres, Yulia Pinkusevich, Amy Pleasant, Mel Prest, Linda Price, Calida Rawles, Kate Rhoades, Karrie Ross, Ann Marie Rousseau, Maja Ruznic, Ron Saunders, Sonja Schenk, Nike Schroder, Annie Seaton, Steve Seleska, Christine Shields, Cindy Shih, Sheli Silverio, Jessica Snow, Lisa Solomon, Mike Street, William Swanson, Camilla Taylor, Jessie Thatcher, Lava Thomas, Gina Tuzzi, Linda Vallejo, Lin Wei, Dana Weiser, Rhonda Wheatley, Stephen Whistler, Diane Williams, Sandra Yagi, Andre Yi, Stella Zhang, Wanxin Zhang.
Comment by AB: Over 125 small-format portraits of immigrants to the United States by 100 artists from Los Angeles and The Bay Area. Co-curated by Monica Lundy and Walter Maciel.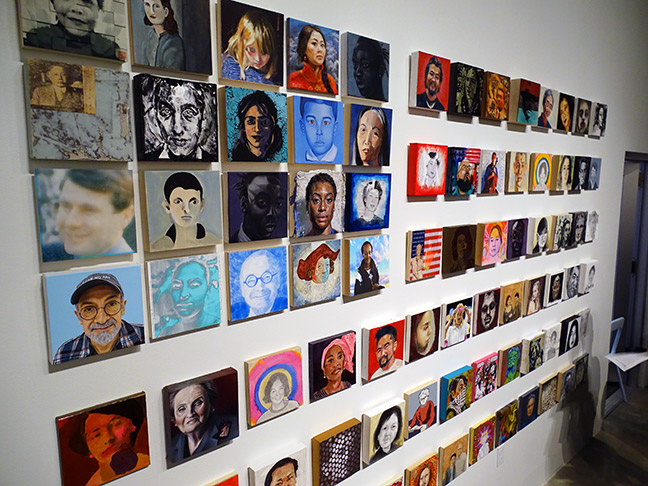 Portraits of immigrants to the USA who made a difference at SFAC Galleries.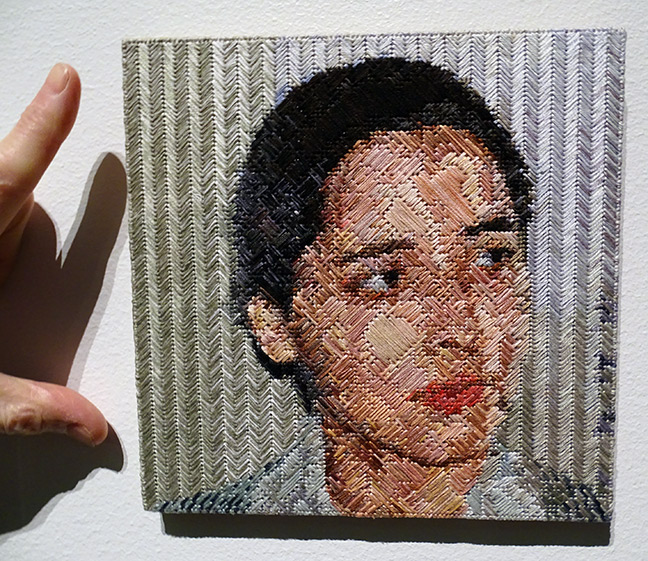 Stitched portrait art closer (nicely done).


Portrait art closer - welcome to our Sanctuary City.


Portraits of immigrants to the United States who made a difference.


Cupcakes for inclusivity. All are welcome here.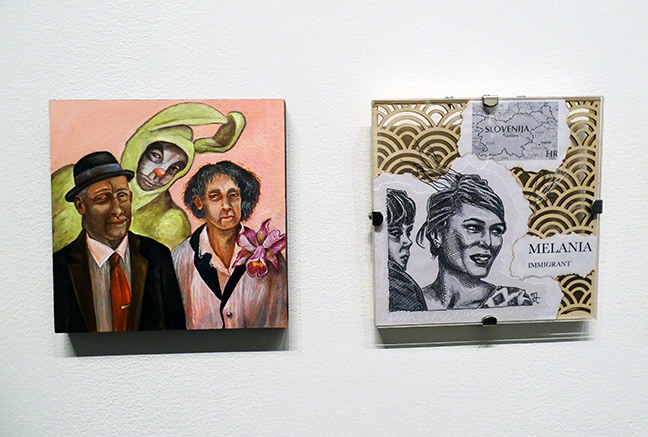 Portraits of immigrants closer.


Attendance figures - group art show at SF Arts Commission Galleries.


***
Luna Rienne Gallery: Parallel Projections - Alec Huxley
Comment by AB: Strange invaders take over San Francisco.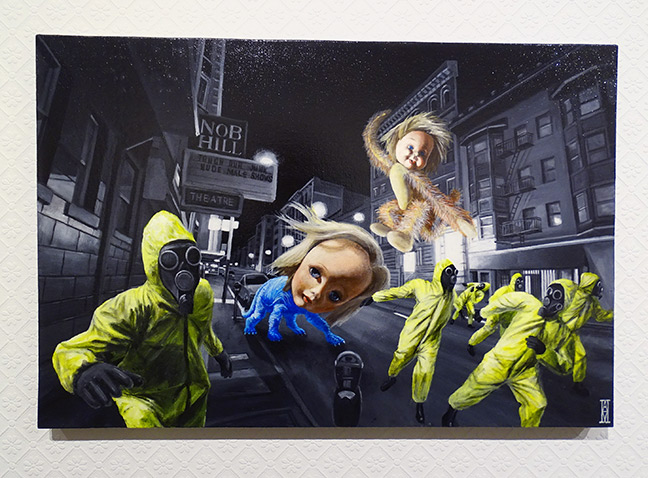 Not even Nob Hill is safe - Alec Huxley art at Luna Rienne Gallery.


Strange invader art by Alec Huxley up close.


Alec Huxley and his art at Luna Rienne Gallery.


Alien invader art by Alec Huxley.


***
Desai | Matta Gallery at Callifornia Institute of Integral Studies: Emma Nishimura - An Archive of Rememory; Neil Chowdhury - 46 Lahiri Lane
Comment by AB: Two distinct perspectives on family stories and memories of growing up. Good art; check it out.

Photographs by Neil Chowdhury at California Institute of Integral Studies.


Neil Chowdhury photography.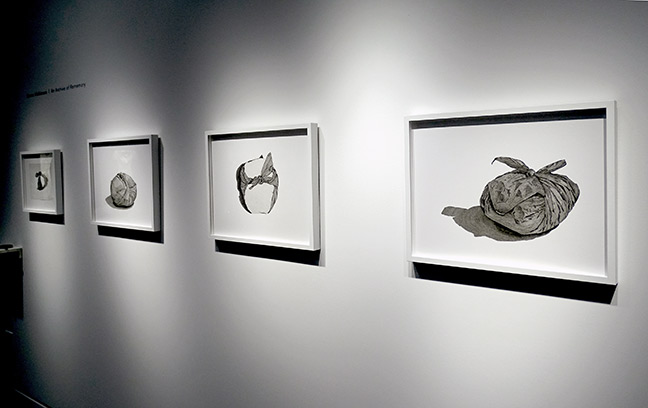 Ink drawings composed entirely of words by Emma Nishimura (like 'em).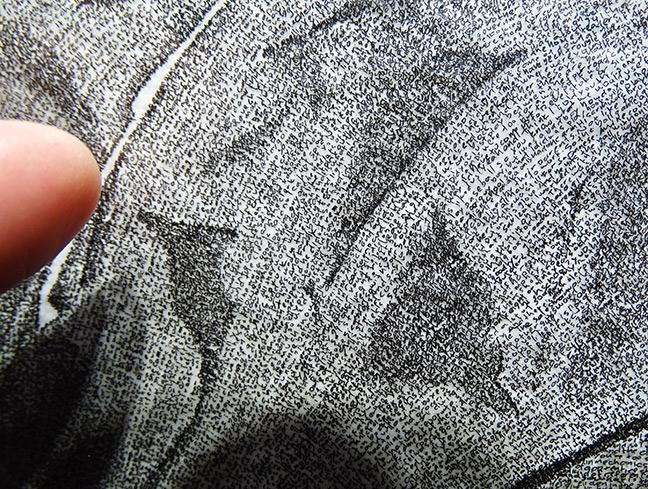 Pinkie cam detail of art in above image.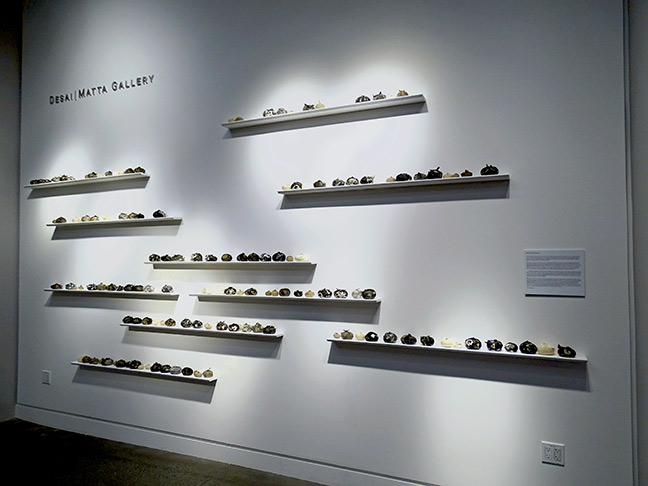 Wrapped object installation by Emma Nishimura.


Art in above image closer.


***
ArtSpan at SOMArts Gallery: Art Bridge Benefit Auction
Artists: Amy Ahlstrom, Silvi Alcivar, Bob Armstrong, Elizabeth Ashcroft, Suzy Barnard, Saedis Bauer, Ross Becht, Michael Beckler, Jennifer Berkowitz, Richard Bolingbroke, Johnny Botts, Beka Brayer, Spencer Brown, Lara Buelow, Terry Castle, JenHui Chang, Tracy Child, Katie Chin, Joshua Coffy, Herbert Dang, Flora Davis, Monica Denevan, Robin Denevan, eElos, Claire Elliott, Su Evers, Nina Fabunmi, Scott Fin, Rebecca Fox, Joan Karissa Gallego, Cameron E. Gerhold, Dilcia Giron, Rinat Goren, Pinto Guino, dk Haas, Peggy Huff, Colette Hannahan, Laura Hapka, Mark Harris, Audrey Heller, Dianne Hoffman, Lutz Hornischer, Kelly Hsiao, Damon Hyldreth, Clint Imboden, Uma Rani Iyli, Shane Izykowski, Philippe Jestin, Renee DeCarlo Johnson, Eric Joyner, Andrej Michael Karwacki, Tisha Kenny, Kevin Keul, Russel Kiehn, John Kraft, Carol Kummer, Geneviève L'Heureux, Denise Laws, Katja Leibenath, Rachel Leibman, Bonnie Levinson, Eugene Loch, Lola, Mary Lonergan, Ytaelena Lopez, Jeny Love, Leslie Lowinger, Derek Lynch, Rosanna Lyons, Catherine Mackey, Paul Madonna, Kathleen Maley, Kate Marsh, Alan Mazzetti, Christine Meuris, Tareq Mirza, Mary Mocas, Seren Moran, Sean Nash, Kim Nasonov, John Nieto, Monique Passicot, Jenny Phillips, Megan Posas, Matthew Priest, Lucky Rapp, Shilo Ratner, Eric Rewitzer, Fernando Reyes, Susan Richardson, Carol Rienecker, Karl Roeseler, Sawyer Rose, Mike Sanchez, Stephen Santamaria, Greta & Manu Schnetzler, Pauline Crowther Scott, Valerie Scott, Janet Seifert, Stevan Shapona, Suchitra Sharma, Dan Shehan, Maureen Shields, Kim Smith, Allison Snopek, Stephanie Steiner-Jacobi, Shiho Takahashi, Claudio Talavera-Ballon, Denise Tarantino, Justin Teisl, Raissa Trend, Trish Tunney, Paula Valenzuela, Victoria Veedell, Sylvia Vientulis, Jonathan Vohr, Jenny M.L. Wantuch, Deirdre Weinberg, Rodney Weiss, Aynur Girgin Westen, Jonathan Whitmore, Laurie Wigham, Ealish Wilson, Yelena Zhavoronkova, Rachel Znerold, Elena Zolotnitsky.
Comment by AB: Juried annual auction to benefit ArtSpan's programs, events and services to the art community in San Francisco. Always worth attending and supporting.

Art by Cameron E. Gerhold at ArtSpan fundraiser auction.


Robin Denevan art.


Photograph by Spencer Brown.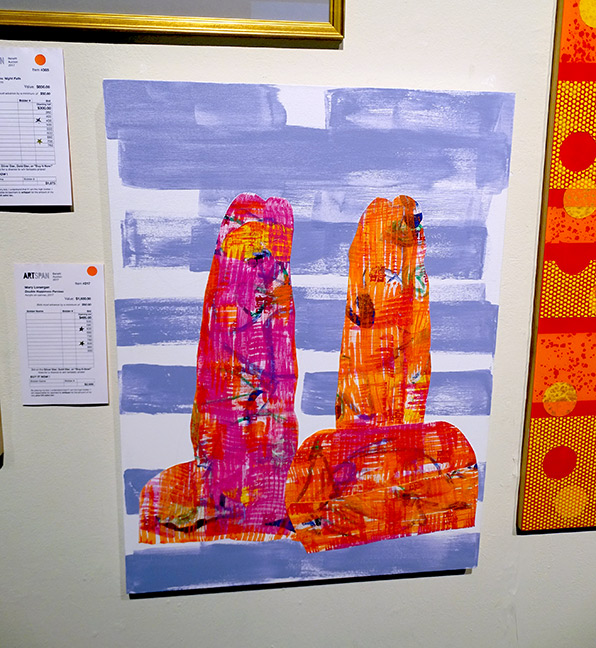 "Double Happiness Penises" by Mary Lonergan. Whatever you say.


Relative density - ArtSpan annual benefit auction at SOMArts Gallery.


***
R/SF Projects: Simón García-Miñaúr - The Valley
Comment by AB: Video travels transport you to otherworldly realities. Kinda like it.

Blending beings - video by Simón García-Miñaúr at R/SF Projects.


Another still from the video above.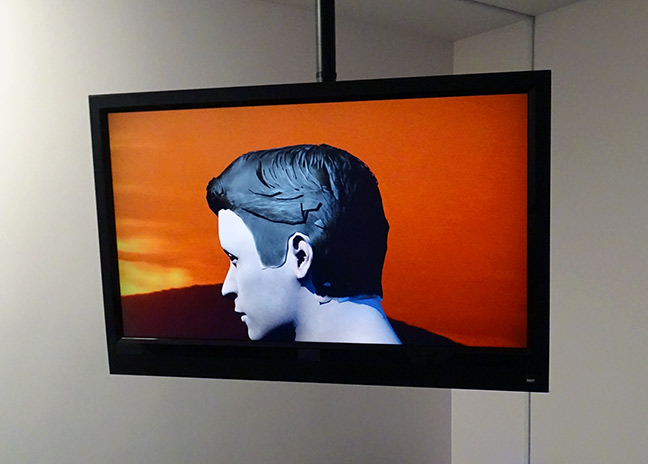 Video art by Simón García-Miñaúr.


Another still from the above video.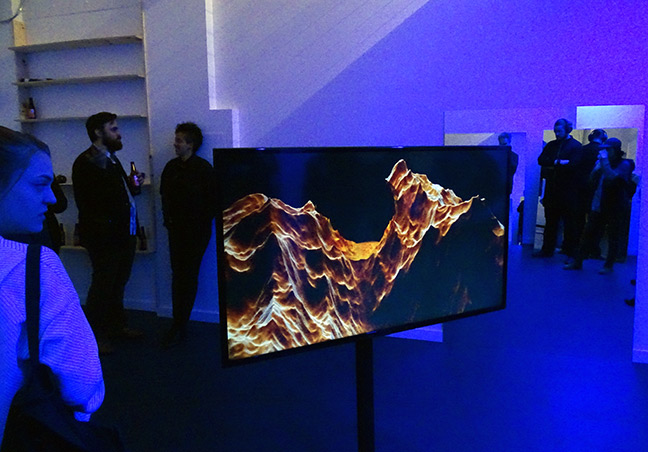 Amorphic form video by Simón García-Miñaúr at R/SF Projects.


***
Shambhala: Shambleezy - Group Show
Artists: Avanna Lawson, Kat Geng, Jon Levy-Warren, Robin Birrd, Yuka Ezoe, Rabbit Garcia, Lan Anh Le, Chavie Lopez, Tan Khanh Cao, Charlene Tan, Rye Purvis, Katie Benn, Chloe Terez, Ramekon O'Arwisters, Muhammad Dali, Lina Dominguez.
Comment by AB: Your basic urban shuffle.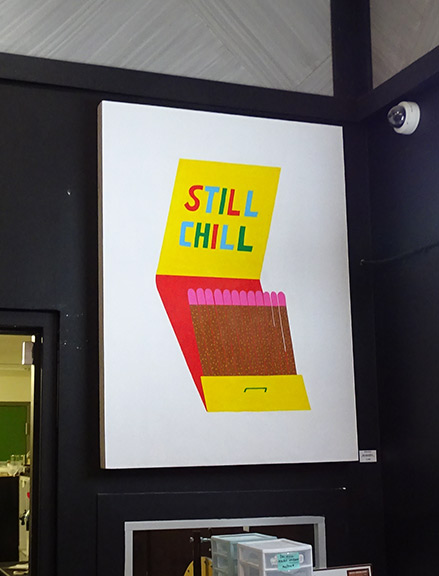 Art by Katie Benn at Shambhala.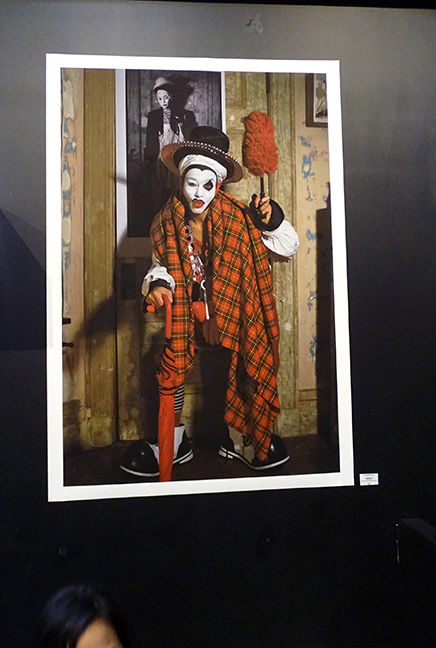 Photography by Tan Khanh Cao.


Lan Anh Le art.


Long view - group art show at Shambhala.


***