<< Back to San Francisco Gallery Openings Reviews
Upcoming San Francisco Gallery Openings Calendar >>
***
Get your art fix fast: Instagram @alanbamberger
***
Tribal and Textile Art Show at Festival Pavilion, Fort Mason: 2018 Opening Night Gala
Exhibitors: 2R Ritual Gallery, Art Conservation De Rigeur, Anatolian Picker, Amayas Naegele, ATADA, Arts d'Australie - Stéphane Jacob, Art For Eternity - Howard Nowes, Arte Primitivo Gallery, Arthur W. Erickson, Inc., Asiatica, Australian Aboriginal Art Gallery, Brant Mackley Galley, Brian Nault Tribal Art, Bryan Reeves, Caravanserai Ltd, Chinalai Modern, Chinalai Tribal Antiques, Ltd., Chris Boylan - Oceanic Art, Dancing Threads, Dave DeRoche, Didier Claes, Dimondstein Tribal Arts, DS Fine Art, Emmanuel Ameloot, Ernie Wolfe Gallery, Ethnics Art Council, Farrow Fine Art Gallery, Faust Gallery, Fazli Solak Rug Repairs, Fernandez Leventhal Gallery, Friends of Ethnic Art, Galen Lowe Art & Antiques, Galerié Dodier, Gallery.Marketing, Hagop Manoyan LLC, HALI, Hayden & Fandetta, Healing Stones, Ian Shaw, James Stephenson African Art, Japon Gallery/ Rene Sagahon, Jewels, Joe Loux Asian & Tribal Art, John Ruddy Textile Art, Kenneth MacKay, KR Martindale Galley, Lao Design, Leonard Kalina Fine Arts, Louis Nierijnck - The Netherlands, Marc Assayag African & Oceanic Art, Marion Hamilton, Mark A. Johnson Tribal Art, Mark Eglinton Tribal Art, Navaho Germantown Weavings, Michael Hamson Oceanic Art, Miranda Crimp, Morgan Oakes Tribal, Native American Art, Oumar Keinde African Art, Patrick & Ondine Mestdagh, PM Boyd Primitive Art, Powers Fine Arts, Raccanello Tribal Art, Rainforest Baskets, Rajasthan Fabrics & Arts, Peter Pap Oriental Rugs Inc., Rosebud, Sisi Tatu, Something Magical, Splendors of the World - Hawaii, Sue Ollemans, Suzanne O'Connell Gallery - Australian Indigenous Art, Taylor Dale Tribal Art, Textile Arts Council, The Armstrong Collection, The Zentner Collection, Thomas Murray, Tribal Gathering London, Tribalmania, Trotta-Bono, Turkey Mountain Traders, Vicki Shiba, Wen Hua Liu, Wesley Marquand Books, Yaama Ganu Gallery, Zena Kruzick Tribal Art.
Comment by AB: Once a year in early February we get an opportunity to see the finest in tribal and textile arts from Asia, Oceania, Africa, Native American, Central American and Latin American indigenous peoples. From Pre-Columbian and antique to contemporary, you'll discover it here courtesy of top domestic and international specialist dealers and galleries. Thousands of works of art and artifacts on exhibit include sculpture, wood carvings, ceramics, baskets, clothing, rugs and carpets, jewelry, weapons and much more. This year's special exhibition focuses on Contemporary Australian Aboriginal art and artists. It's kinda like a museum except that most everything is for sale. Not to be missed.

Pre-Columbian figures at Powers Fine Arts, each 4-5 inches tall.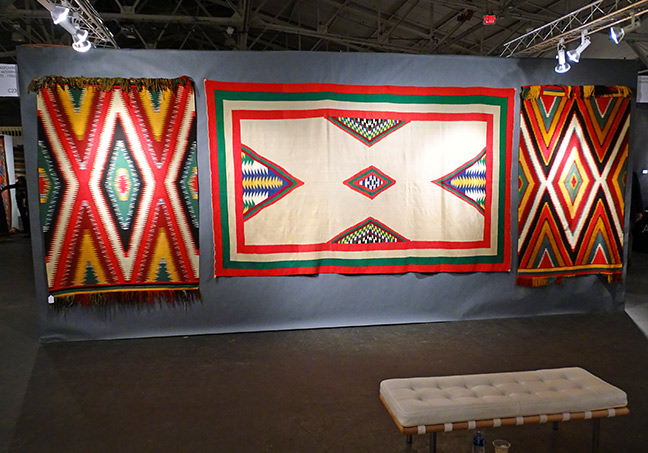 Native American textiles at Navajo Germantown Weavings, 1870-1900.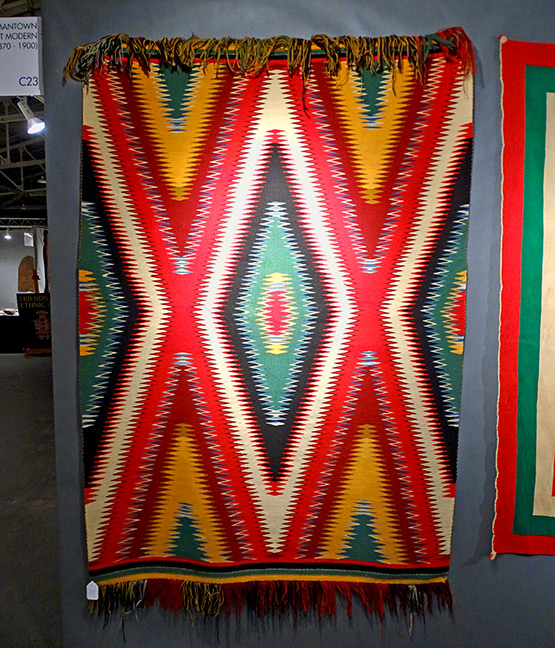 Eyedazzler blanket in above image closer, circa 1890, $22000.


Oceanic art up close at Farrow Fine Art, SF Tribal and Textile Art Show.


Rugs, carpets and headgear c/o Anatolian Picker, Istanbul.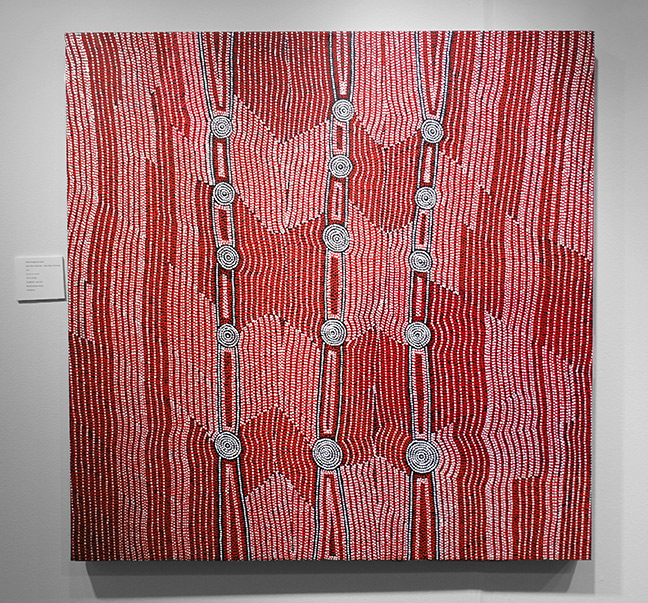 Fine Aboriginal art by Helen Nungarrayi Reed Yaama Ganu Gallery.


Pinkie cam detail of art in above image (nicely done).


African tribal mask at Dimondstein Tribal Arts (like it).


Boomerang collection c/o Carolyn & Mark Blackburn - sharp, heavy & deadly.


Carved boomerang in above image closer.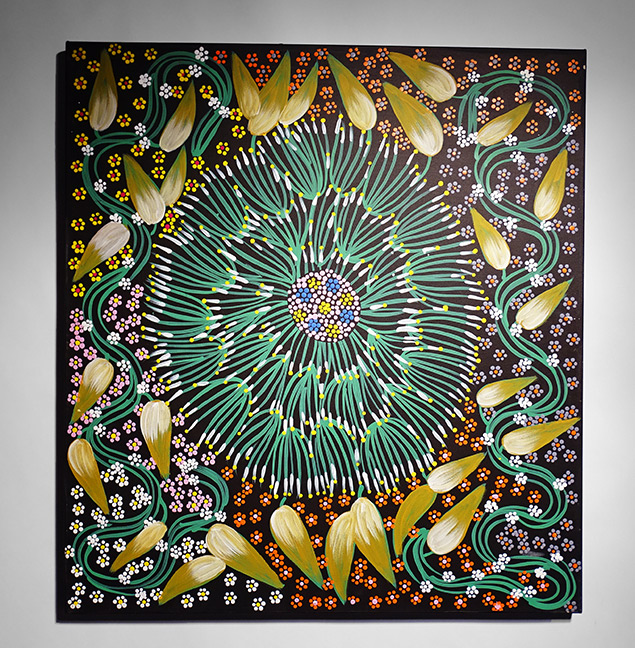 Aboriginal art by Eunice Napangardi at Australian Aboriginal Art Gallery.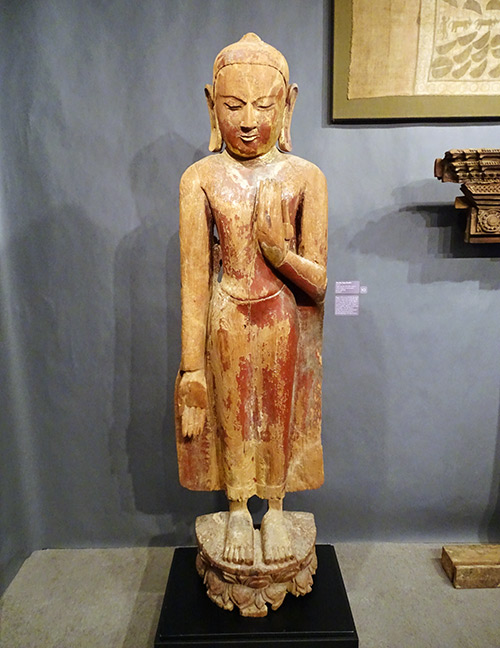 12th/13th century full-sized Burmese Buddha at Vicki Shiba Asian Tribal Art.


African art c/o Didier Claes at SF Tribal & Textile Art Show, 2018.


Native American rugs at K R Martindale.


Assorted small tribal sculptures at Thomas Murray.


Arts from the indigenous Wounaan tribe, Panama at Rainforest Baskets.


Carvings and sculptures at Oumar Keinde African Art.


***