<< Back to San Francisco Gallery Openings Reviews
Upcoming San Francisco Gallery Openings Calendar >>
***
Get your art fix fast: Instagram @alanbamberger
***
Untitled, Art San Francisco at Pier 70: Inaugural Edition curated by Christophe Boutin, Omar López-Chahoud and Melanie Scarciglia
Exhibitors: Anat Ebgi, Andrew Kreps Gallery, Anglim Gilbert Gallery, Artadia, Balice Hertling, Berkeley Art Museum and Pacific Film Archive, Casemore Kirkeby, Château Shatto, City Limits, Creative Growth Art Center, CRG Gallery, Dastan's Basement, David Lewis, Denny Gallery, DITTRICH & SCHLECHTRIEM, FOUR A.M., Francois Ghebaly, Galerie Anita Beckers, Galerie Perrotin, Hannah Hoffman Gallery, Harmony Murphy Gallery, Headlands Center for the Arts, Henrique Faria Buenos Aires, 11R Gallery, Instituto de Visión, Interface, Jane Lombard Gallery, Josée Bienvenu Gallery, Kristin Hjellegjerde Gallery/ narrative projects, Luis De Jesus Los Angeles, Max Estrella, MIER GALLERY, moniquemeloche, NATHALIE KARG GALLERY, NF /NIEVES FERNANDEZ, NIGHT GALLERY, OCHI PROJECTS, Overduin & Co., Prosjektrom Normanns, PROYECTOSMONCLOVA, San Francisco Cinematheque, Sandra Gering Inc, SCHLOSS, The 500 Capp Street Foundation, The Contemporary Jewish Museum, The Lab, Three Star Books, untilthen, Vigo Gallery, WALDEN, Wattis Institute for Contemporary Arts.
Comment by AB: Untitled, Art is without question the most progressive contemporary art fair ever to set up shop in San Francisco. An international array of galleries exhibited art that's the exact opposite of the safe, staid, familiar brands of whatever's in vogue at the moment aka your typical art fair fare these days. In fact, the art was so cutting-edge, I needed 37 stitches. But seriously, the art was so ingenious, I gained 12 IQ points just looking at it. But seriously, the art was so cool, I nearly got frostbite. Wait. No. That was the temperature of the Pier 70 building. But seriously, the art was so fresh, innovative and invigorating I had to come up with a whole new word to describe it: Bamberlicious. Hopefully we'll be seeing return engagements of Untitled, Art for years to come. Loved it!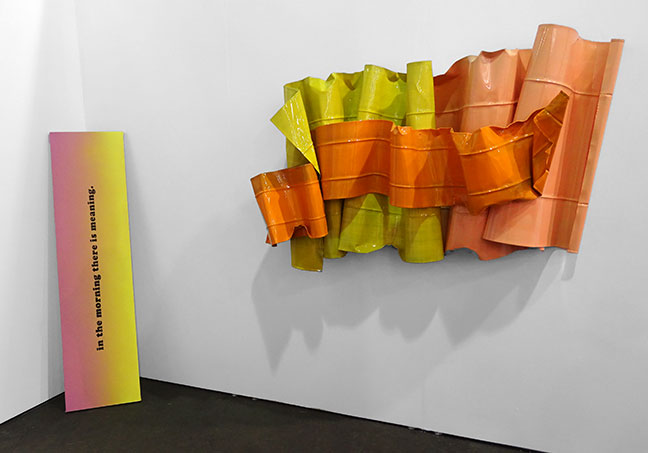 L-R, art by Eve Fowler & Anna Fasshauer at MIER Gallery - Untitled, Art.


Art by Daniel Crews-Chubb at VIGO Gallery.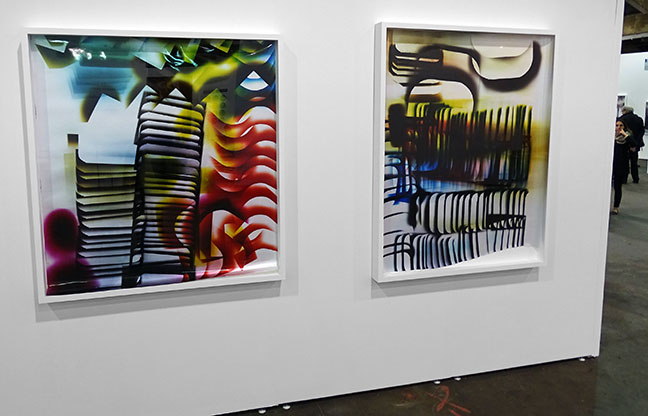 Mariah Robertson chemical reactions on photographic paper at 11R Gallery.


Art/installation by Parker Ito at David Lewis.


Parker Ito art at David Lewis.


Iman Raad at Dastan's Basement, Tehran, Iran - Untitled, Art San Francisco.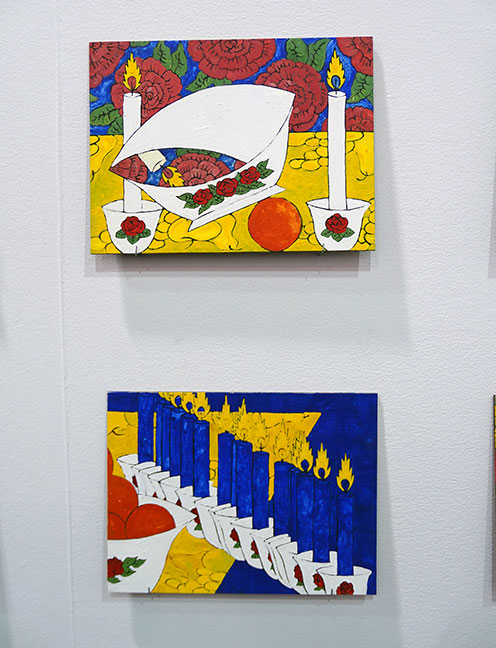 Art in above image closer.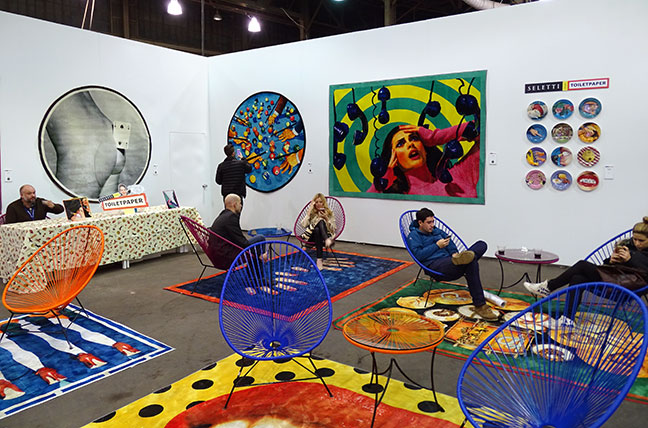 Toiletpaper Lounge - funnest relaxation station at the fair.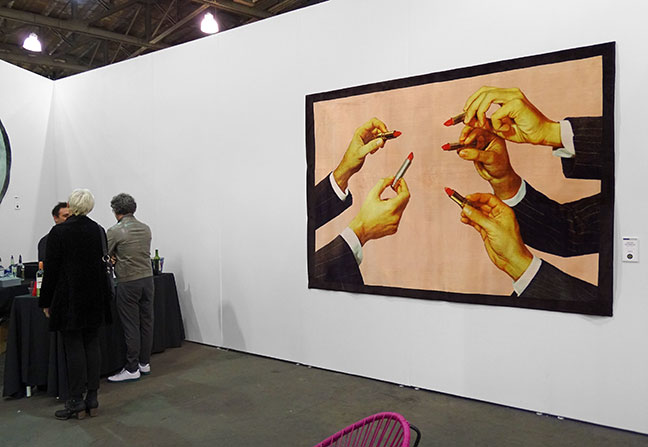 Maurizio Cattelan & Pierpaolo Ferrari art for Seletti Wears Toiletpaper.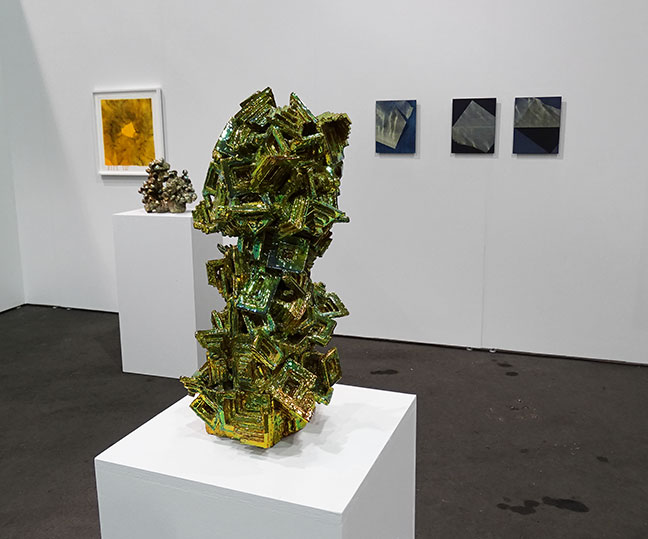 Wild iridescent glazed ceramic by Junia Kunin at Sondra Gering Inc.


Nando Alvarez-Perez and his art at Interface Gallery - Untitled, Art fair.


The situation at Three Star Books, Paris.


Fractionate yourself in video c/o Rafael Lozano-Hemmer at Max Estrella.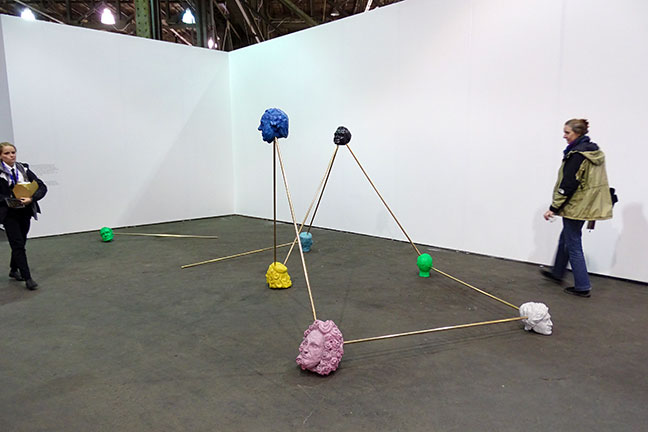 Goshka Macuga sculpture at Andrew Creps Gallery.


Art at moniquemeloche.


L-R, VIGO Gallery, London & Instituto de Visión, Bogota, Columbia.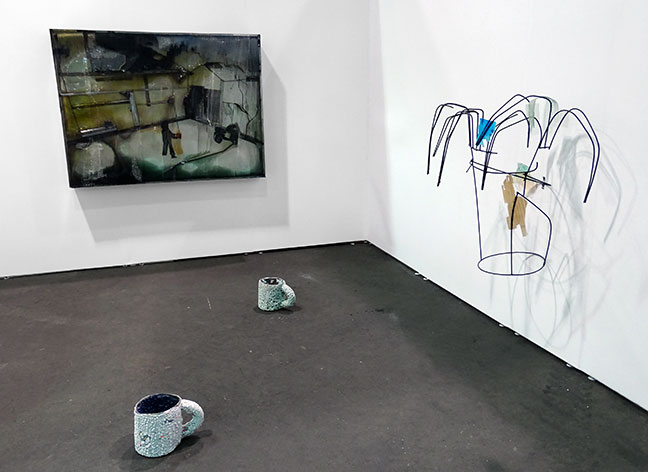 Art at Ghebaly Gallery.


The basic idea - Untitled, Art fair San Francisco, Inaugural Edition.


***