How to Write and Send Artist Emails,

Newsletters, Invitations or Announcements

To People You Don't Know
ArtBusiness.com receives plenty of unsolicited emails from artists, galleries, artist agents and reps, various fine art promoters and public relations people, and art-related websites. These include updates, newsletters, images of art, exhibition and show notices, announcements, marketing requests, representation requests, and invitations to visit websites. A good number of these emails are concise and to the point; some are confusing and raise more questions than answers; a handful have major problems; a few are totally unintelligible. As an artist advocacy website, ArtBusiness.com offers the following guidelines for writing and sending emails to people or businesses you don't know-- individuals, galleries, institutions or other potentially interested parties.
Sending an unsolicited email is similar to the real life situation of wanting to meet someone for the first time at an event like an art opening, art class, or other art-related function. If you're like most people, you introduce yourself, start up a conversation, and make your point pretty fast. Anyone who wants to continue talking does; anyone who doesn't doesn't. You don't ramble on for fifteen minutes to someone who obviously isn't interested in hearing what you have to say. Treat your email recipients the same way by making your point fast, inviting those who want to know more to "continue the conversation," and "walking away" from those who don't.
To begin with, make sure you have a good reason to send an email. Best procedure is to focus on a single newsworthy item like a development in your career, an upcoming show, an award you're receiving, a studio sale, or other event or accomplishment that involves you. Make your announcement and then tell people where they can go to find out more.
Always use a headline (subject line). Emails with blank or confusing subject lines get deleted far more often than emails with concise informative headlines. The best headlines provide readers with ample information about the who, what, when, where, and why of your message. For example, headlines like "100 New Paintings on Bill Smith's Website," "Susan Moore Gets Sculpture Commission," or "Mary Moran Show Reviewed in the Times" clearly state content and increase the chances that interested parties will open these emails. Headlines like "My Art" or "Visit My Website" or "See My Paintings" will likely get deleted.
Keep your message short, simple, and clear. The average person's online attention span is not very long, and if you don't get the main point or purpose of your message across in the first two or three sentences, consider your email destined for deletion. Hardly anyone likes receiving lengthy, rambling or vague emails from people or organizations they've never heard of. Your goal is to grab the attention of anyone who's interested and hold it long enough to convince them that they want to find out more.
Stay on topic when composing your message. Don't go on and on about yourself, your career, or what you're doing with your life unless it specifically relates to your headline. Some artists, for example, digress about individual works of art, how they're doing with works in progress, or how people are responding to their art. This information may be exciting for the artist to write about or fine for artist discussion groups, but it's not newsworthy unless it has to do with the purpose of your email. Can you imagine the glut that would pile up in your mailbox if every artist emailed you every time they either started, worked on, showed or completed a work of art?
If the purpose of your email is like virtually all art and artist emails, your goal is to get recipients to look at your art. Once again, stay on topic and resist the urge to describe or go into detail about numerous works of art. A sentence or two about your current series or current body of work will suffice. When you are emailing about your website, either give the specific URL you want readers to visit, or briefly tell them how to navigate the site in order to see relevant examples of your work. Don't simply dump people on your homepage with a "look at my art" type of message; tell them briefly why they should visit and precisely where they should go or what they should do once they get there.
When you don't have a website, but want to include attachments of your art in your email, be brief. Don't attach any more than one or two images and keep them under 200-300K each in size, preferably in the range of 100K each or even less. Anyone who wants to see more of your art will hit their reply button and ask for it. ArtBusiness.com has received unsolicited emails with as many as 100 separate attachments, the most excessive totaling well over 20 megabytes in size. For people with slower Internet speeds, these connection-clogging emails can take a significant while to download and only make them mad. Good procedure is to include a single representative image accompanied by a compelling message that convinces people they want to see your art. Follow this with simple instructions about where to go to see it, what to do, and what they'll see once they get there. Below are some additional pointers for sending unsolicited promotional emails that get results.
* Target your recipients. Make sure you understand who you're emailing and why; make sure they understand why you're emailing them. Avoid mass-mailings unless you know that everyone on the recipients list has a possible interest in either you, your art or your career as an artist.
* Add a personal note to every email you send. Recipients who feel that they've been singled out are more likely to read them.
* Make no more than three separate announcements per email, preferably less, preferably one. More than three announcements bores readers. Those who want to know more will email you back.
* Your entire email should be no longer than three paragraphs of two to three sentences each.
* Keep headlines factual and avoid over-the-top, misleading, exaggerated, or pie-in-the-sky claims like you see on spam. You may think your art is totally unique or has never been done before or is the best art out there, but keep personal opinions like that to yourself. Let the readers decide.
* Keep content truthful. Misrepresent yourself or your career accomplishments and, sooner or later, people find out. As always, honesty is the best policy.
* If your goal is to publish a regular newsletter, blog or any other type of web page or social networking page with lots of content, invite people to subscribe by sending them short introductory emails first that offer trial subscriptions, or give URL's of current or recent content where people can go to read it first and then subscribe if they like what they find. Don't send large unsolicited emails.
* Be brief if you include any biographical or career information, preferably limited to recent developments. It's better to send or direct people to your complete resume only if they ask to see it.
* Put as much contact information as you feel comfortable with into your email including your name, address, cell phone number, email address, social networking page, and website URL (limit URLs to maybe 2 or three primary ones at the most). The more accessible you make yourself, the more comfortable people feel about contacting you, and the better the chances that people will respond. The less contact information you provide, the more hesitant people are to contact you, and the more suspect they are of your intentions.
* Send no more than two or three emails to anyone who doesn't respond. In spite of what direct marketers say about how many contacts are necessary to make a sale, art is not like groceries, computers, cars or timeshares. People's tastes in art rarely change no matter how many times they see it.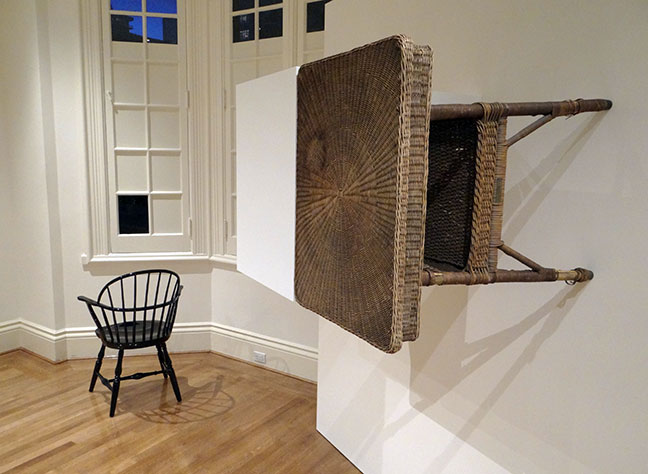 Current Features

Generating income from art in the form of either cash or cash equivalents is always challenging...
Ever wonder how "sales consultants" sell art at predatory commercial art galleries? What you are about to read...

---

Services for Artists and Collectors

Get Your Art Appraised Here >>

---